В понедельник компания Hewlett-Packard пополнила свою линейку ноутбуков двумя новыми сериями бизнес-моделей на базе процессоров Intel с двойным ядром.

Линейка ноутбуков HP nx9400 нацелена на пользователей, которые требуют от техники высочайшего уровня производительности. Новые ноутбуки снабжены широкоформатной 17-ти дюймовой матрицей и мощной 3D-графикой. Для того, чтобы сделать 17-люймовые модели более мобильными, дизайнеры снизили их вес на 17% и толщину на 35% по сравнению с ноутбуками из серии 9600.

Время автономной работы устройства от станадартной батареи 8-cell составляет до 4-х часов, что на 129% больше чем у предыдущих 17-ти дюймовых моделей ноутбуков HP. Новые портативные ПК появятся на рынке в середине марта по цене $1,499.

На данный момент в этой линейке ноутбуков HP присутствует модель nx9420, ниже представлены ее подробные характеристики: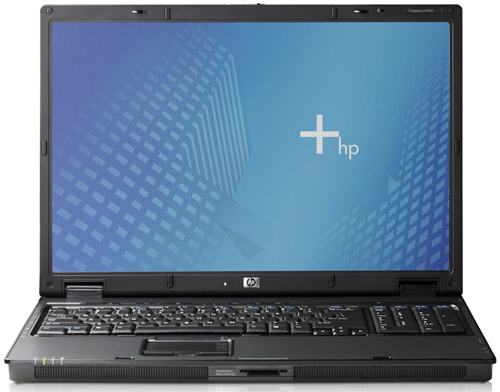 Operating system   Preinstalled Microsoft Windows XP Professional Edition SP2 Microsoft Windows XP Home Edition SP2 (select countries only)   Supported Microsoft Windows 2000 (drivers downloadable from http://www.hp.com)  Processor  Intel Core Duo Processor T2300† (1.67-GHz, 667 FSB, 2MB-L2 cache) Intel Core Duo Processor T2400† (1.83-GHz, 667 FSB, 2MB-L2 cache) Intel Core Duo Processor T2500† (2.0-GHz, 667 FSB, 2MB-L2 cache) Intel Core Duo Processor T2600† (2.17-GHz, 667 FSB, 2MB-L2 cache)  Chipset  Mobile Intel 945PM Express Chipset with 667-MHz FSB  Memory  DDR2 SDRAM, 533- or 667-MHz, two SODIMM slots supporting dual channel memory11,  256/512/1024-MB upgradeable to 4096-MB maximum1  Hard drive  9.5-mm SATA hard drives: 60/80/100-GB 5400 rpm, 80/100-GB 7200 rpm  Removable media  12.7-mm optical drives: SuperMulti12 Double Layer2 DVD+/-RW,  Double Layer2 DVD+/-RW with LightScribe3, 24X DVD/CD-RW Combo, 8x DVD  Display  17.0-inch WXGA+ (1440 x 900 resolution and 16M colors),  17.0-inch WSXGA+ wide-viewing angle (1680 x 1050 resolution and 16 M colors),  17.0-inch WSXGA+ Brightview wide-viewing angle (1680 x 1050 resolution and 16M colors),  17.0-inch WUXGA wide-viewing angle (1920 x 1200 resolution and 16M colors);  ambient light sensor  Graphics  ATI Mobility Radeon x1600 with 256MB of dedicated video memory  Audio  PremierSound High Definition Audio support w/24-bit audio DAC,  Digital EQ, Advanced audio power management,line out/headphone jack, microphone jack, integrated microphone  Wireless support  Intel Pro/Wireless 3945ABG Network Connection,  Broadcom 4311BG 802.11b/g WiFi Adapter,  Broadcom 4311AG 802.11a/b/g WiFi Adapter,  dual display mounted antennas, optional integrated Bluetooth™5,6  Communications  Broadcom Gigabit PCI Express Ethernet Controller6 (10/100/1000 NIC),  56K modem, HP power down NIC technology  PC Card slots  1 Type I/II PC Card slot supports 32-bit CardBus and 16-bit cards 7-in-1 Media Reader10 Secure Digital, MultiMediaCard, Memory Stick,  Memory Stick Pro, Memory Stick Duo, Smart Media and xD memory cards  Ports and connectors  4 USB 2.0, VGA, audio in/out, power, RJ-11, RJ-45,  S-video TV out, IEEE 1394a, docking, HP Travel Battery  Keyboard  Full-sized keyboard with numeric keypad  Pointing device  Touchpad with two pick buttons and scroll zone;  optional6 Fingerprint Reader configurable between Touchpad pick buttons  Software   Operating system updates Microsoft Windows Media Player 10 Microsoft .NET Framework 1.1  Applications and utilities HP Wireless Assistant – select models HP Mobile Printing Driver for Windows  Security and recovery  HP Backup and Recovery Manager Norton Internet Security HP ProtectTools Security Manager  Applications  Sonic Digital Media Plus – select models Intervideo WinDVD 5 – select models Microsoft Office 2003 Small Business or Professional- Optional  Security  HP ProtectTools, HP Drivelock, integrated Smart Card Reader,  optional HP Biometric Fingerprint Sensor, TPM Embedded Security Chip, Kensington lock slot  Dimensions (h Ч w Ч d)  1.3 in (at front) x 15.5 in x 10.8 in /33 mm (at front) x 393 mm x 275 mm  Weight  Starting at 7.4 lb/3.35 kg  Power  8-cell Lithium-Ion battery, secondary 8-cell HP Travel Battery7,  external 90W AC adapter  Expansion solutions  HP Docking Station HP Advanced Docking Station  Warranty  One-year standard parts and labor warranty, depending on country (upgrades available),  one-year warranty on primary battery
Линейка 15-дюймовых ноутбуков 6300 нацелена на мобильных пользователей или на средний и мелкий бизнес, где особое значение придается окупаемости и эффективности. Новые ноутбуки предлагают широкий спектр опций для выбора необходимой конфигурации, в том числе и для расширения коммуникационных возможностей, включающих в себя в том числе и интегрированные адаптеры WAN. Модели появятся на рынке в начале апреля по цене $1,049.
Технические характеристики моделей nx6320/nc6320: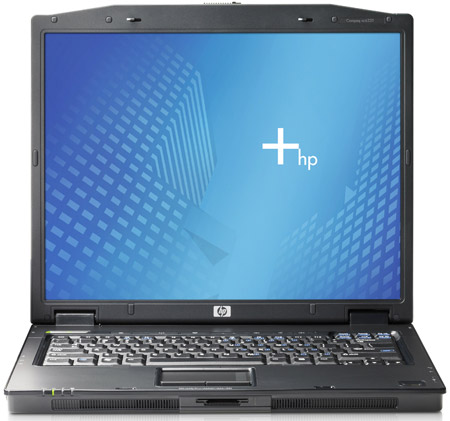 Operating system  Preinstalled Microsoft Windows XP Professional Edition Microsoft Windows XP Home Edition FreeDOS  Supported Microsoft Windows 2000 (drivers downloadable from http://www.hp.com)  Processor Intel Core Duo Processor T2600† (2.16-GHz, 667-MHz FSB, 2-MB L2 cache)  Intel Core Duo Processor T2500† (2.00-GHz, 667-MHz FSB, 2-MB L2 cache)  Intel Core Duo Processor T2400† (1.83-GHz, 667-MHz FSB, 2-MB L2 cache)  Intel Core Duo Processor T2300† (1.66-GHz, 667-MHz FSB, 2-MB L2 cache)  Intel Core Solo Processor T1300† (1.66-GHz, 667-MHz FSB, 2-MB L2 cache)  Intel Celeron M Processor 430† (1.73-GHz, 533-MHz FSB, 1-MB L2 cache)  Intel Celeron M Processor 420† (1.60-GHz, 533-MHz FSB, 1-MB L2 cache)  Intel Celeron M Processor 410† (1.46-GHz, 533-MHz FSB, 1-MB L2 cache)  Chipset Mobile Intel 945GM Express Chipset  Memory DDR2 SDRAM, 533- or 667-MHz, two SODIMM slots supporting dual channel memory,  256/512/1024/2048-MB, supports up to 4096 MB13  Hard drive 40/60/80/100-GB 5400 rpm  Removable media 12.7-mm optical drives: LightScribe2 DVD+/-RW with Double Layer2 ,  DVD+/-RW SuperMulti9 with Double Layer2, 24X DVD/CD-RW combo,  8X DVD-ROM, 24X CD-ROM  Display 14.1-inch or 15.0-inch XGA (1024 x 768 resolution and 16M colors),  15.0-inch XGA BrightView display6 (1024 x 768 resolution and 16M colors),  15.0-inch SXGA+ wide viewing angle (1400 x 1050 resolution and 16M colors)  Graphics Intel Graphics Media Accelerator 900, up to 128-MB shared system memory  Audio PremierSound High Definition Audio w/24-bit DAC, headphone jack,  microphone jack, integrated microphone  Wireless3 support HP ev2200 1xEV-DO Broadband Wireless Module (requires Verizon Wireless Service);  Intel PRO/Wireless 3945ABG Network Connection,  Intel PRO/Wireless 3945BG Network Connection,  Broadcom 4311AG 802.11a/b/g WiFi Adapter,  Broadcom 4311BG 802.11b/g WiFi Adapter,  Bluetooth™ 2.0  Communications Broadcom NetLink Gigabit Ethernet PCI Controller5 (10/100/1000), 56K v.92 modem  Expansion slots 1 Type I/II PC Card slot supports 32-bit CardBus and 16-bit cards; Express Card slot 7-in-1 Media Reader,12 Secure Digital, MultiMediaCard, Memory Stick, Memory Stick Pro,  Memory Stick Duo, Smart Media and xD memory cards  Ports and connectors 4 USB 2.0 ports, VGA, mic in, line out, integrated mic, IEEE 1394a,  AC power, RJ-11, RJ-45, lock slot, S-video TV out, parallel,  serial, docking  Input device Full-sized keyboard;  Touchpad with scroll zone,  Touchpad with scroll zone and HP Biometric Fingerprint Sensor,  or Pointstick with HP Biometric Fingerprint Sensor  Software  Operating system updates Microsoft Windows Media Player 10 Microsoft .NET Framework 1.1  Applications and utilities HP Wireless Assistant – select models HP Mobile Printing Driver for Windows  Security and recovery HP Backup and Recovery Manager Norton Internet Security HP ProtectTools Security Manager  Applications Sonic Digital Media Plus – select models Intervideo WinDVD 5 – select models Microsoft Office 2003 Small Business or Professional- Optional  Security HP ProtectTools, HP Drivelock, optional Smart Card Reader7,  TPM Embedded Security Chip (NA only), HP Biometric Fingerprint Sensor,  Kensington lock slot  Dimensions (h Ч w Ч d) 30.3 mm (at front) x 328.6 mm x 247.3 mm  Weight Starting at 6.1 lb / 2.8 kg  Power 6-cell (52 WHr) Lithium-Ion battery, secondary HP 8-cell (52 WHr) Extended Life Battery,  65W HP Smart AC Adapter15, HP Fast Charge Technology  Expansion solutions HP Docking Station HP Advanced Docking Station HP External MultiBay II HP Monitor Stands  Warranty Three-year or one-year limited parts and labor warranty,  depending on country and model (upgrades available7);  one-year limited warranty on primary battery